Book on Roberto Domingo Fallola:
Roberto Domingo-Arte y Trapío (Roberto Domingo-Art & Trapío) by María Dolores Agustín Guerrero
(Publishers Agualarga, SL, Madrid, Spain. 1998)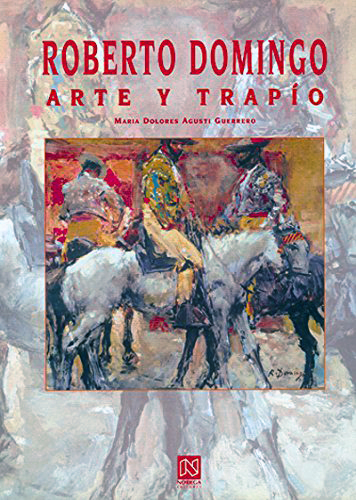 Roberto Domingo, Arte y Trapío (Roberto Domingo, Art and Trapío)
Many years later, in 1998, María Dolores Agustín Guerrero gives the press a work very different format and with intent, as noted in the colophon, to call attention to the unjust neglect of Roberto Domingo. Expected to arrive at some point, you want to be close, to occupy the prominent place that rightfully belongs in the history of contemporary painting. Although the author says wanting to locate in the place it deserves in the history of painting, not only of taurine, which is undoubtedly universal teacher. Maybe that typecasting has been a hindrance for a wider recognition. Maria Dolores, in a perfectly structured book with a comprehensive graphical documentation, about eight hundred photographs and documents, tells the familiar surroundings of his childhood and adolescence in Paris from Madrid of his time and he met bullfights. Also of his office and in a lengthy report presents images of his life, correspondence, press reviews, magazine covers and an extensive and select catalog of his works, probably the largest of the known so far. Work is completed with a highly selected bibliographical. It is a very vital that Maria Dolores Agustín recognizes that discovered the painting of Roberto Domingo accidentally, unintentionally, in the exercise of their profession. "Then she says I was captivated, as reflected, bright, sincere, life itself with all its aroma and with all its drama." He admits the force of his brushwork, even softened the colors to gouache, gave him a great personality and character, which, while made you think you can express more with less! It is a book to learn, to enjoy the contemplation of his images and it is very important to know the bullfighting during the painter's life story.
Agustín Guerrero, María Dolores. Roberto Domingo, Arte y Trapío (Art and Trapío) . Forewords by Angel Luis Bienvenida y Mario Hernández Sánchez-Barba. Madrid, Agualarga, 1998.
Folio lower. 278 p. Editorial and jacket embossed hardback with laminated reproduction of a fragment of the picture before the race. Black and white photographs and color illustrations.
Description of the book: José María Sotomayor