Biographical Notes about Roberto Domingo and his father Francisco Domingo Marqués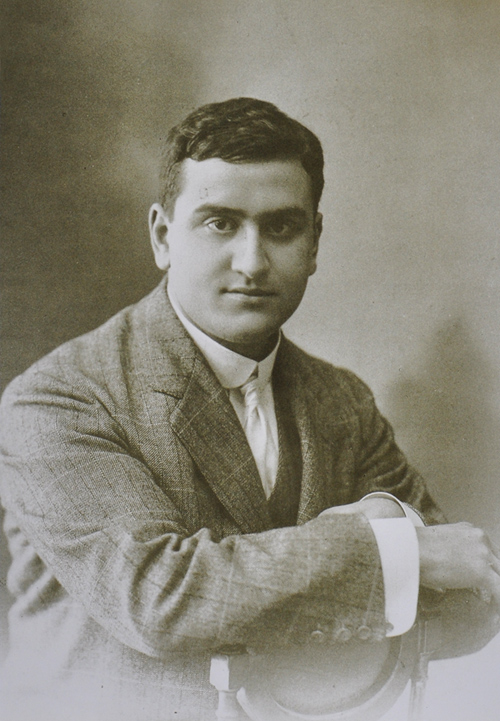 ROBERTO DOMINGO
(Paris, 1883 – Madrid, 1956)
Roberto Domingo Fallola (Paris, 1883 – Madrid, 1956). He is the son and pupil of Francisco Domingo Marqués,  a leading figure in the Spanish art colony in Paris. His childhood, and much of his youth was spent in the city on the Seine, where he frequented artistic circles and had a close relationship with Parisian artists. Early on he showed great aptitude for drawing, improving his skills acquired in the shadow of his father, under whose training he started painting  "things around the house." In 1906 he moved to Madrid and becomes a student of Muñoz Degrain at the School of Fine Arts of San Fernando, which he leaves after a short while. In 1908 he celebrated his first solo exhibition in the shop of furniture maker Jose Suarez on the Carrera de San Jeronimo. In 1912 his work is shown at the Sala Parés in Barcelona; in 1913 he shows sixty pieces in Madrid, and in 1914 he held an exhibition at the Baillie Gallery in London, having a great success, being encouraged by the painters Sargent and Gerald Nelly, who buy his work.  In 1915 the Spanish State acquires one of his paintings entitled "el coleo". In 1917 he returns to London at the Tooth Gallery, and that same year, exhibited his work in Munich, Barcelona, Bilbao and San Sebastian. From then until 1957, when he has his last show posthumously at the Sala Toison in Madrid,  he only has shows in 1923, 1940 and 1944 in the capital of Spain. In his painting themes include bullfighting, where detail comes to life and movement without losing their entire submission to the drawing. The different cape passes, the bullfighter's team entering the ring, the "picadores" placing the pick, the mules dragging the dead bull, and the butchers skinning the beast  provide him with a repertoire of varied topics, rich in excitement, but that could only be approached with great skills as a draftsman and improviser. He learned from his father the need to balance the compositions with rhythm and discontinuous lines. His rapid technique, on paper or cardboard, led him to capture the immediacy of the different works expressing movement  with short brush strokes, managing to suggest the grace of outline or corporeal sense of volume. Within this theme sticks out "suerte de varas", painted in gouache, with which in 1908 he won the third prize at the National Exhibition of Fine Arts. In 1910, he attains the second prize at the National Fine Arts. In 1911, he participates in the Exhibition of Fine Arts in Rome, selling all of his exhibited works. In 1915, he was awarded a second prize at the International Exhibition of Buenos Aires and in 1916, is awarded the knighthood of the Order of Carlos III.  To his bullfighting theme also belongs the excellent canvas entitled "Enclosing the flock", which is preserved in the Museum of Fine Arts San Pio V of Valencia. In the same vein, with equal clarity and exact skill with color, done in oils, watercolors and gouache, he depicts military themes- charges, parades, and battles-  permeated with motion and excitement of the best color and style of the impressionist school. He created a style endowed with great movement and color strength. He cultivated the bullfight poster as an art form and illustrated in various newspapers of Madrid such as "Libertad" and "ABC". After his death, the presence of his works has been a constant in group exhibitions and anthologies and at the most important auction houses.
---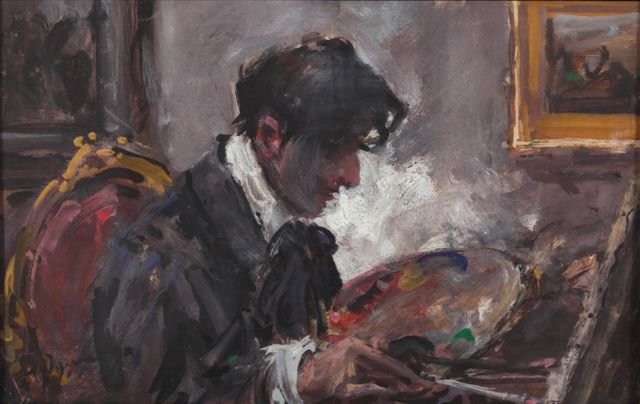 "Roberto Domingo en el Estudio"(Roberto Domingo in its studio)
DOMINGO FALLOLA, Roberto. Painter. – Paris, 1883.-Madrid, 1956.
Son of Francisco Domingo Marqués. Lives in Paris for 22 years. At 15,  publishes in Madrid caricatures. 1906, January, arrives in Spain. Attends for the first time a bullfight celebrating in Madrid in May the wedding of Alfonso XIII. The spectacle will dazzle and thrill him. = Third Medal in 1908. Second in 1910. In 1915 the jury proposes the purchase of his painting "el coleo."  1910. Second prize at the Buenos Aires International. 1911. Proposed award at the Rome Exp. 1916. Knight of the 1st Order of Carlos III. The paintings with the theme of bullfighting are those which Don Roberto presents in exhibitions.
He soon is known as the pictorial interpreter of the  "national sport". He will be known, up to his death,  and without any argument,  "the painter of the bullfight." He produces in great quantities oil paintings, gouaches and drawings in pen, which are displayed, are sought and acquired by the fans,  are reproduced in magazines and newspapers. He created a school of art, and although there are many who try to imitate him, he remains the master in his field.
Domingo worked with the Press in Madrid to graphically summarize the bullfights that were held. In "La Libertad", then in the "ABC". For half a century (1906-1956) the artistic life of Roberto Domingo is an example of diligence and honesty. He lived what he painted and drew. He held numerous personal exhibitions in Spain and abroad.
He did not limit his subjects to bullfighting. He also painted in great quantity,  fishing and beach scenes, popular festivals, and horse racing.  He always painted from memory, with his prodigious mnemonic powers, in his study,  without models nor photographs.

---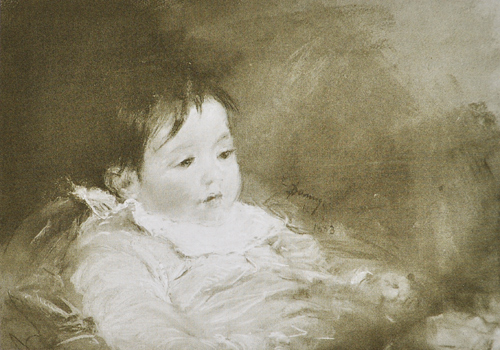 "Mi hijo Roberto" (My son Roberto). Francisco Domingo, 1883.
DOMINGO MARQUES, Francisco. Painter. Valencia, 12 March 1842. – Madrid, July 22, 1920. Disc. Montesinos. = Special Honorable Mention in 1864. Third Medal in 1867. First in 1871. In 1915 he aspired, with 32 works, to receive a medal of honor, he being the candidate who achieved the most votes. = 1867. Gold medal at the Valencia Regional Exp. 1868. Winning the competition for a stipend  from the Council of Valencia, in Rome he  painted his famous works "Santa Clara" and "Last Day of Sagunto." 1869. Appointed professor of drawing and still life at the Valencian School of San Carlos. 1875. Settles in Paris, where he has his residence, until 1914. There he attains his greatest successes with genre pictures,  sold at very high prices. 1886. Queen Maria Cristina charges him with the portrait of his son, Crown Prince (later Alfonso XIII), for which the paintor earns a hundred thousand francs. Made decorations for the Duke of Fernan Nunez y de Bailen . 1914. The European war forced him to leave Paris and he moved to Madrid, where he lives with his son Roberto. 1917, June 17. His reception at the Academy of San Fernando. His works are exhibited in the Exhibition of Valencia. Its production, very copious, is quite uneven. Besides splendid works, has mediocre works. 1918, July. Valencia pays homage with a work by Benlliure, a monument in Alameditas Serranos. 1920. The Spanish government granted him the 1st Grand Cross of Alfonso XII.